The Weekender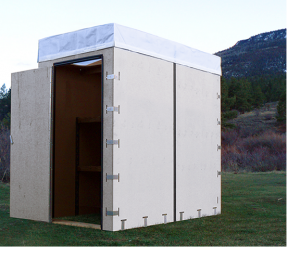 The Weekender is our most economic option. The lightweight durable construction of the Weekender features a rigid wall design. The hurricane fly is constructed of a semi-transparent reinforced vinyl designed to protect you from the elements. Both the interior and exterior skins can be painted, letting you decide how it looks. Kids love to help—make it fun!
This is perfect for the camper exploring outdoors during the weekend. Set-up is simple with our patented tool free snap technology. As with all our models, the Weekender knocks down and stores flat. Designed to be set up in less than 30 minutes.
click photos to enlarge
---
STANDARD SIZES AND PRICES:
4′ x 8′:  Contact us for pricing
6′ x 8′:  Contact us for pricing
---
KEY FEATURES:
Lightweight and durable
Economic
Quick knockdown
Patented tool free snap technology
Rigid wall design
Paintable
Base frame, leaving natural floor
Standard size: 4'x8'x8' (1–2 people) and 6'x8'x8' (2–4 people)
Expected lifetime: Depending on care, 1 season to…?
SUGGESTED USES:
Rigid wall shelter
Portable weekend shelter
Car camping
Tent alternative
Kid's playhouse