The Platinum Base Camp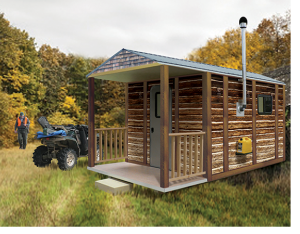 Thought the Base Camp was the ultimate product? Think again! For the first time, RTS is revealing our new Platinum Series Base Camp. This series has features beyond your imagination. Starting with our patented snap technology, you can assemble the Platinum Series with custom exterior composite colors, and wood grain interior color. Sporting a gable style metal roof, it is even equipped with a covered front porch. Best of all, it still maintains the snow load and insulation properties of the Base Camp.
The Platinum Series Base Camp encompasses an audience from high end outfitters, to seasoned preppers. This is the ultimate cabin for your remote property, where no other buildings can go without major construction.
The interior wall surfaces feature Greenguard board with zero out-gassing and NSF approval, making it the perfect "Cookie Cabin" for food prep. Built with the highest quality materials and engineered to last a lifetime, the Platinum Series Base Camp will be sure to impress not only you, but anyone who visits it for years to come.
click photos to enlarge
---
STANDARD SIZE:
10′ x 16′ (10′ x 12′ living space excluding porch)
STANDARD PRICE:
Contact us for pricing
---
KEY FEATURES:
2-3/4" SC7 composite panels
Standard non-slip floor
Custom exterior composite colors (see photos)
Custom interior composite colors (woodgrain or almond)
Gable Style metal roof
Standard covered front porch
Option to expand and add on as you grow
Standard footprint: 10'x16'
Living Space 10' x12' (without porch)
Expected lifetime: Engineered to last a lifetime
UPCOMING OPTIONAL FEATURES:
SUGGESTED USES:
Knock down cabin
Outfitters Camp
Elite Guide hut
Base Camp
Bug out shelter
Portable hunting cabin
Emergency preparedness shelter
Guiding base camp
Cabin in the woods
Your outdoors escape

Standard exterior colors:

Custom exterior colors: