The Bunkhouse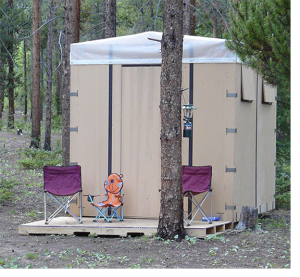 The all-new Bunkhouse is ideal for a playhouse or for the kid's backyard camping without leaving home. It also serves as accommodations for those surprise visitors. Made of 3/4" CDX Exterior grade plywood— not light weight, but it provides a rigid wall shelter.
It comes equipped with bunk beds, a closing door, and windows for added ventilation. It has a "hurricane fly" top constructed with a semi-transparent reinforced vinyl top to allow for natural lighting. Like all our models, the Bunkhouse is designed to knock down flat by using our patented tool free snap technology,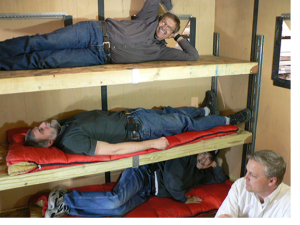 making it ideal for easy transport or storage.
The Bunkhouse provides sleeping solutions for up to 6 people. To keep you off the ground, it's equipped with a plywood floor. Best of all, it's designed to fit in the back of your truck so you can take it with you! The knockdown design lets you carry the panels through the gate (no fencing to remove).
click photos to enlarge
---
STANDARD SIZES AND PRICES:
8′ x 8′:  Contact us for pricing
---
KEY FEATURES:
Rigid wall construction
Ability to sleep 6
Designed to set up with 2 people in less than 30 minutes
Door with weather-stripping and latch
3 awning-type windows with weather-stripping
Sloped multi-year roof
Floor able to suspend on four corners to keep dry
Knocks down
All surfaces ready to receive paint—have fun!
Expected lifetime: 5+ years
SUGGESTED USES:
Knock down shelter
Weekend shelter
Hunting cabin
Overflow guest housing/weekend entertaining
Bunkhouse
Kid's playhouse